Activate My ctcLink Account for the First Time
NOTE 1: If you have already activated your ctcLink account at another college in Washington, you do not need to activate it again. Your ctcLink ID works for all colleges within our system.
NOTE 2: You will only activate your account one time, so make sure to save your ID and password at the end of the process to use when you sign in to ctcLink in the future.
NOTE 3: To successfully complete activate, you need to make sure your browser allows pop-ups; suggested browsers are FireFox and Chrome. More information on allowing pop-ups can be found on the "How Do I Allow Pop-ups for ctcLink."
1. First, go to https://gateway.ctclink.us. TIP: You can "right-click" to open this in a new tab, which will allow you to keep these directions open in this tab.
2. Once at the ctcLink screen, locate the Activate Your Account link below the ctcLink ID box.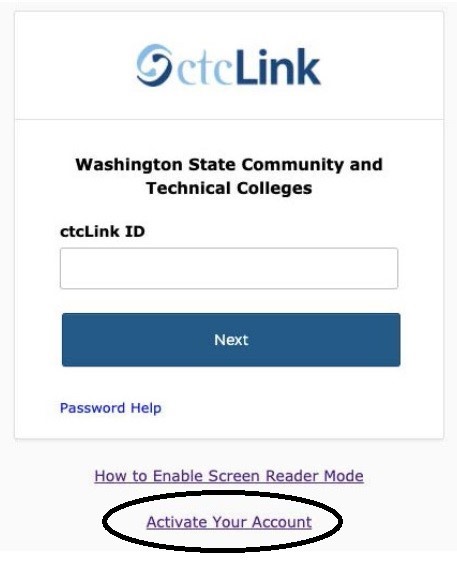 3. At the "Activate Your Account" screen, you must enter your name of record (legally recognized) first and last names. You will be able to edit your display name later.
4. Enter your date of birth using the required format of MM/DD/YYYY.
5. To enter your ID type, you must click the arrow to show a drop-down menu. You may enter either your SID (Student ID Number from our former system) or your new ctcLink ID number. You can use our whats my number lookup tool to get this information.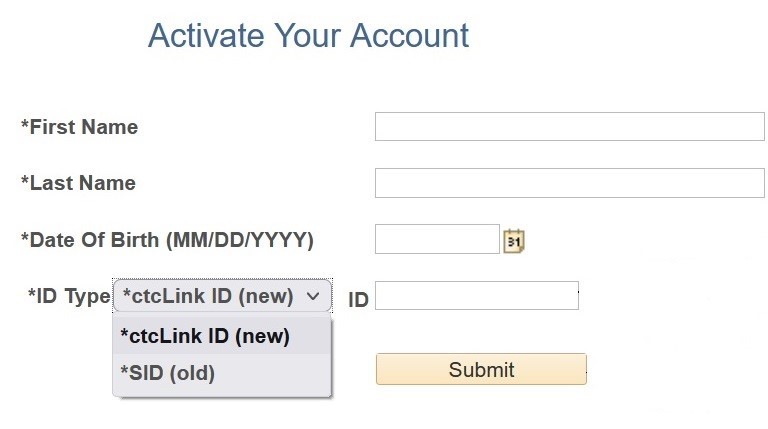 6. To "Set Your Password," enter the email account you will check regularly.
7. To choose a security question, click the arrow for a drop-down menu. Type an answer that will be easy for you to remember. The answer must be at least 6 characters
NOTE: Use letters / numbers only in your security answer - do not include special characters.
8. Enter your phone number in the account recovery box for times when you you do not have access to your email account.
9. Make a note of your password because you may need to sign into ctcLink on devices other than your own.
NOTE: ctcLink Passwords should NOT contain any part of your name.)
10. Click "Submit" to finalize the activation process.
11. If you have successfully completed the activation steps, a pop-up window will appear with your new ctcLink ID. Write down your ctcLink ID for future use.

12. NOTE: You MUST close ALL browsers for your activation to be updated:

Congratulations! You are now ready to log into ctcLink. From any web browser, navigate to https://gateway.ctclink.us and enter in your ctcLink ID and password and Click "Next". Then enter your password and click "Verify."
Need More Help? Contact:
if you run into any issues following this guide, please contact the IT Services Help Desk to resolve them.

We're open from 7:30am to 5:30pm weekdays:

at 360-596-5544
or helpdesk@spscc.edu
or https://spscc.zoom.us/j/99293489933
or even visit us in person on the first floor of Building 25