Look at My Earnings Statement
To perform this HR-related task, you must first Navigate to the HCM Self Service Homepages.
Viewing Paycheck (Earnings Statement)
1. On the Employee Self-Service homepage, click on the Payroll Tile.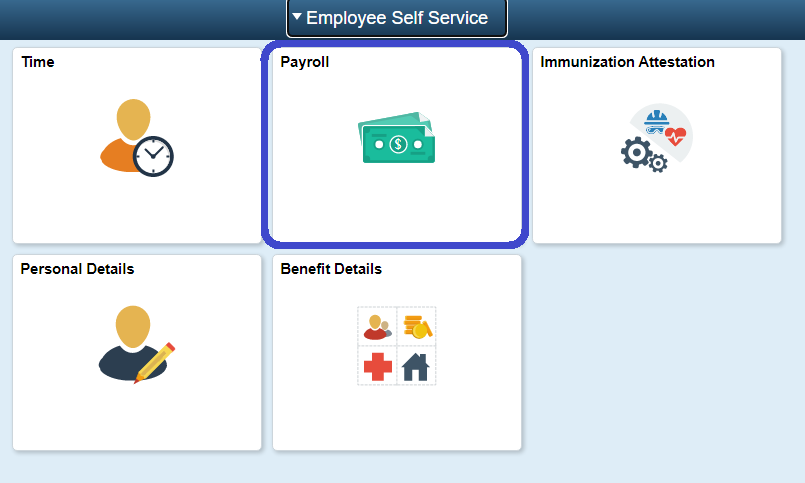 2. On the Payroll page, click on the Paychecks Tile.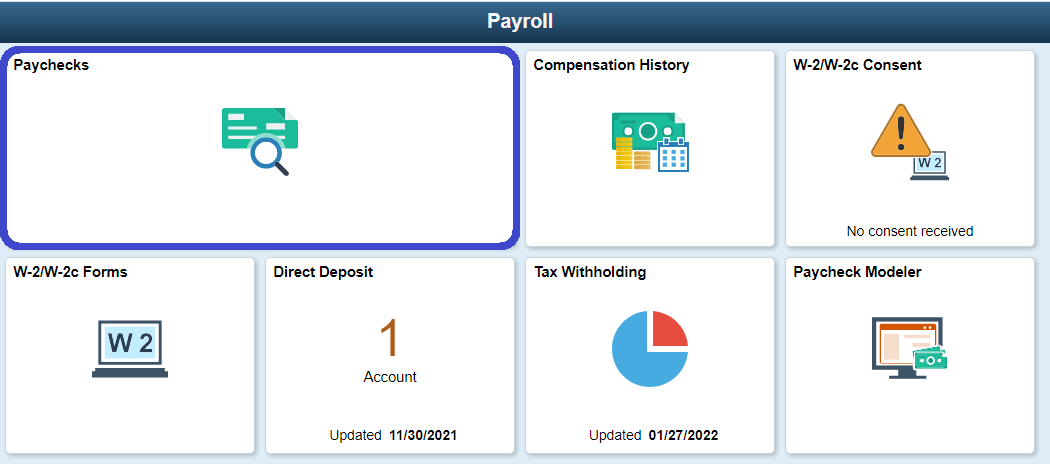 3. Select the paycheck you want to view. A PDF of your paystub will open in another window. An example of a Direct Deposit PDF is shown below; a list of labeled sections and descriptions follow. NOTE: Earnings statement may look different on your own statement depending on employee deductions, benefit enrollments chosen, etc.
Numbered Sections and Descriptions from Direct Deposit Example
1. Pay Information including Employee pay group assignment and pay period dates.
2. Pay Information:
Business Unit (college number)
Check number and issue date
3. Employee demographics (home/mailing address, etc.)
4. Employee Information:
Empl ID
Job Title and Pay Rate
5. Tax Data including marital status and allowances
6. Hours and Earnings (Current and Year to Date; includes totals):
Description of hours
Rate
Hours
Earnings
7. Taxes (Current and Year to Date; includes totals):
Federal Withholding
Fed MED/EE
Fed OASDI/EE
8. Before Tax Deductions (Current and Year to Date; includes totals). For benefit-eligible employee who elected to enroll in the respective benefit plans, the deductions below may be displayed:
Uniform Classic 
Flexible Spending Account
PERS Plan 2
9. After Tax Deductions (Current and Year to Date; includes totals). For benefit eligible employee who elected to enroll in the respective benefit plans, the deductions below may be displayed:
Long Term Disability, SBVIP Pre & After Tax, MetLife
Combined Fund Drive (CFD)
Medical Aid EE, Paid Medical Leave EE, Paid Family Leave EE
10. Employer Paid Benefits (Current and Year to Date). For benefit eligible employee who elected to enroll in the respective benefit plans, the deductions below may be displayed:
PERS Plan 2
Industrial Insurance ER, Medical Aid ER, and Paid Family & Medical Leave ER
FSA Admin Fee and HCA Average Cost
11. Total Gross/Federal Taxable Gross/Total Taxes/Total Deductions/Net Pay
12. Summary Leave Balances (Displays most recent balances):
Vac (Vacation)
Sck (Sick)
NSCK (Non comp sick leave)
P/H (Personal Holiday)
PERS (Personal Day)
CMP (Compensation Time)
13. Net Pay Distribution (Includes total):
Advice Number (for direct deposit)
Account Type (checking or savings) and Account Number(s)
Deposit Amount(s)
Need More Help? Contact:
If you run into any issues following this guide, please contact the Human Resources Office to resolve them.  We're open from 8 am to 5 pm weekdays: