Update My Tax Withholding Information (W4 Form)
To perform this HR-related task, you must first Navigate to the HCM Self Services Homepages.
Employee Self-Service W-4 Withholding
Navigation:  Employee Self Service (Homepage) > Payroll (Tile)
The Payroll page displays.
Select the Tax Withholding tile.
The Tax Withholding page displays. On the page you will see information for Federal Tax Withholding and State Tax Withholding.   (NOTE:  If you are eligible for State Tax Withholding (other than Washington State), your college Human Resources Department will need to complete the required setup in ctcLink for the W-4 Form to be available to you).
Select the Federal Withholding Details by the arrow on the far right.
Select the Federal Withholding Allowance Certificate.
A warning message will pop up, review the message then select OK to proceed with downloading the W-4 PDF on your computer.
Depending on the web browser you are using (e.g. Firefox or Chrome), you maybe prompted to save the PDF (e.g. PYTWF_FEDE.pdf) in another location on your PC or it will be automatically saved in your local Downloads folder. The downloaded PDF may also appear at the bottom of your web browser, which should NOT be used because the Submit option would NOT be available.
Select Downloads file from PC, use Save As to rename file and save to preferred file.  
Once you have used the Save As option, open the PDF file.
Fields in the form are now "fillable" and the green Submit button is available. NOTE: If using the downloaded PDF file from the browser, you will NOT be able to fill in the fields or submit. (NOTE:  YOU MAY NEED TO DOWNLOAD ADOBE ACROBAT)
When finished with updates, select Submit.
A security warning may pop up.  Review and then select Allow.
When submitted, you will be asked to enter credentials/log on information for ctcLink.  DO NOT USE YOUR PC LOG ON AND PASSWORD.   If you use the incorrect credentials, the window will NOT close and the password field will stay blank. ctcLink password may need to be reset. IF your ctcLink password needs to be changed, refer to the Activating Your ctcLink Account QRG.  IF you already have a ctcLink password set up, you may need to go in and answer security questions.  
Download Status window opens.  You may receive a warning message, review message then select OK.
A confirmation downloads and opens on your computer. The first page is confirming that the changes you have made to your Employee Withholding Allowance Certificate have been successfully submitted. The rest of the pages include a copy of the changes you submitted as well as other W-4 Form information.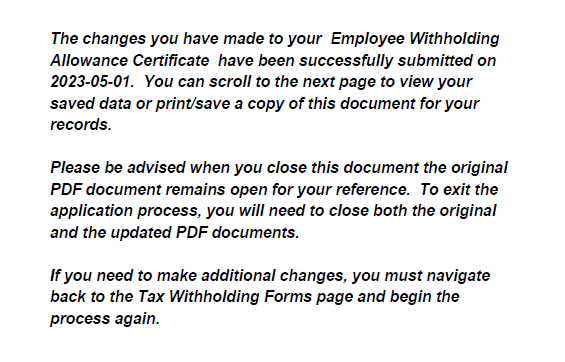 You will also receive an email confirmation from ctclink: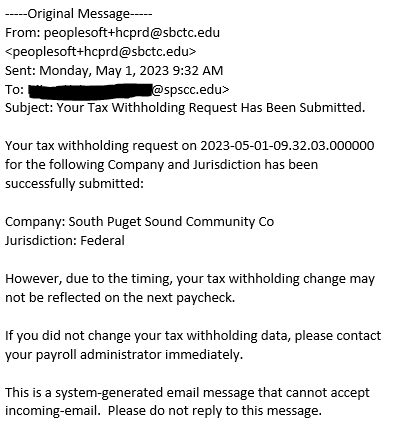 You can save a copy of confirmation - Use Save As and save to your PC.
The process to submit changes to W-4 Withholding is now complete.