Submit a Travel Authorization
BEFORE YOU BEGIN:
First time travelers must submit a Traveler's Information Form(Link) before you can create and submit Travel Authorizations, Cash Advances or Expense Reports. The Business Office staff will set up your Traveler Profile and notify you when you can begin using these processes.
To perform this Finance-related task, you must first Navigate to the FIN Self Service Homepages.
PLEASE NOTE: 
Travel authorizations already submitted for approval will not be available for modification unless withdrawn from approval or sent back during the approval process.
If you have followed the steps to Create a Travel Authorization, but have not yet submitted it for approval, use the following process to submit:
Navigation:  NavBar > Navigator > Employee Self-Service > Travel and Expenses > Travel Authorizations > Create/Modify
On the Travel Authorization search page, select the Find an Existing Value tab.
Enter the Authorization ID or other search criteria.  
Select Search.  The Modify Travel Authorization page will display.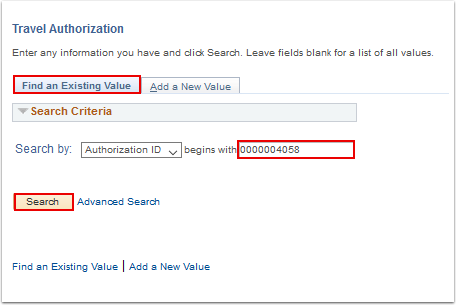 On the Modify Travel Authorization page, select Summary and Submit in the upper right corner of the page.  Expenses displays a page with summary amount information for the Travel Authorization and allows an authorize user to certify the information entered in the Travel Authorization submitted for approval.

On the Modify Travel Authorization summary page, check the certification checkbox. When you check the certification checkbox, the Submit Travel Authorization button becomes available.
Select Submit Travel Authorization.  The Travel Auth Sumit Confirm pagelet will display allowing confirmation the submittal or cancellation.

On the Travel Auth Sumit Confirm pagelet, select OK to confirm the submittal.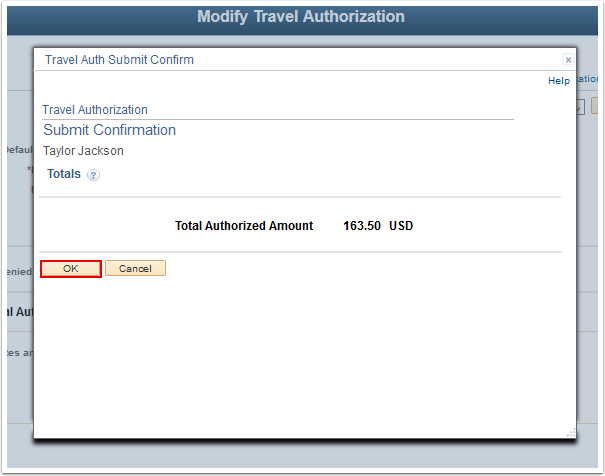 Note that a message will display on the Travel Authorization page confirming that the Travel Authorization has been submitted for approval.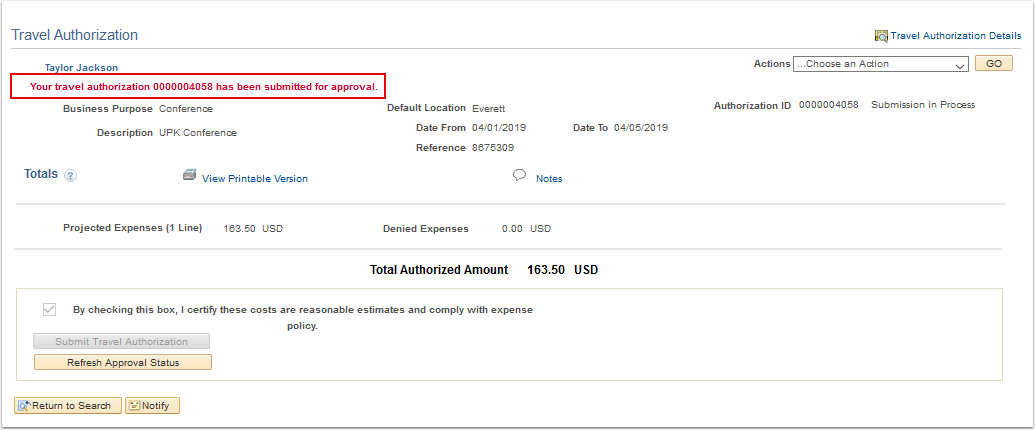 Process complete.